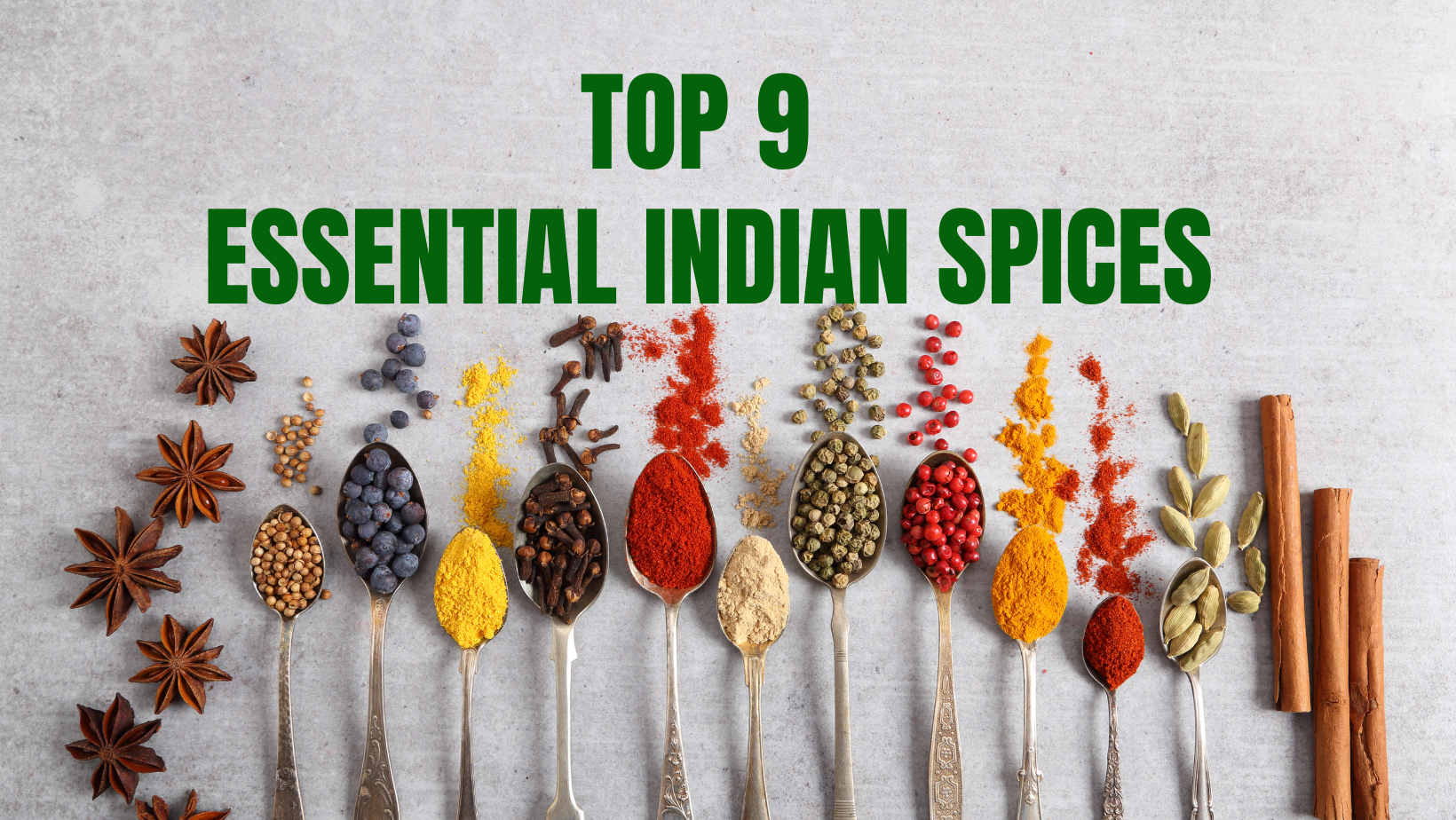 Kerala Spices or Kerala Masala is one of the widely used essential Indian Spices for all our Cooking Spices needs.
Spices are fragrant flavourings derived from the seeds, fruits, bark, rhizomes, and other sections of plants. Cooking Indian cuisine is known for its extensive use of whole and ground spices, which are frequently blended to create intricate spice blends. Since whole spices keep their fragrant ingredients considerably better than ground ones do, chefs nearly universally advise purchasing whole spices and grinding them yourself.
Here is the list of the Top 9 Essential Spices Every Cook Needs to have in the kitchen for cooking.
The most popular Cardamom, the Green Cardamom is utilised in everything from spice blends to lassis to Indian delicacies. Light and sweet with a little eucalyptus undertone. When producing spice blends like garam masala, green cardamom can be blended intact; however, when using it in desserts or sweets, seeds are used.
Black Pepper from the Western Ghats and the Malabar region namely Tellicherry Pepper & Malabar Pepper of India are famous black pepper quality. The price of fresh pepper varies greatly since it is a fairly difficult spice to cultivate because it is dependent on several natural cycles, such as a specific amount of rainfall.
Indian cuisine frequently uses clove, and the anise flavours it imparts can be tasted in many dishes. Both whole and ground cloves can be added to spice blends.
Cinnamon is a spice that comes from the inner bark of the tropical Cinnamomum tree. Cinnamon is available in two different varieties as True Cinnamon & Cassia Cinnamon. "True" cinnamon features smooth, brittle quills with a single spiral that is dark red-brown on the inside and tan on the exterior. It's more delicate than Cassia Cinnamon.
Removing the pulpy shell and sliding off the mace, fresh nutmeg is processed. It has a hard exterior that must be cracked off in order to be grated. A small amount of nutmeg, which is toasty, sweet, and has a hint of pungency, may go a long way in both baking and cooking.
6 Turmeric
Another popular Indian spice is turmeric. It can be consumed fresh (like ginger) or dried after being grown as a rhizome. It is used in many spice blends and curries and is reported to offer a variety of health advantages.
7 Coriander
Many spice blends start with whole coriander, and ground coriander is one of the most widely used ground spices in Indian cooking. It must be dry-roasted until the seeds begin to dance and pop in the pan and have a faint golden-brown tint.
8 Chilli
Primarily used as a powder in the majority of Indian curries and meals. Frequently used as a spice, chilli powder is made by first adding other ingredients to a base of chilli pepper. It is added to meals as a spice to give them pizazz and flavour. Chilli powder is much hotter than paprika. Paprika peppers have a Scoville heat level between 100 and 500, similar to pimento peppers, but chilli powder is hotter, with a Scoville heat level between 1000 and 1500.
9 Cumin
In order to give Indian cuisine its distinctive smokey flavour, cumin is commonly used both whole and in spice blends. It is distinguishable by its distinctive brown seeds with ridges and strong aroma. For the strongest flavour, use freshly ground cumin. Cumin is the second most popular spice in the world after black pepper.