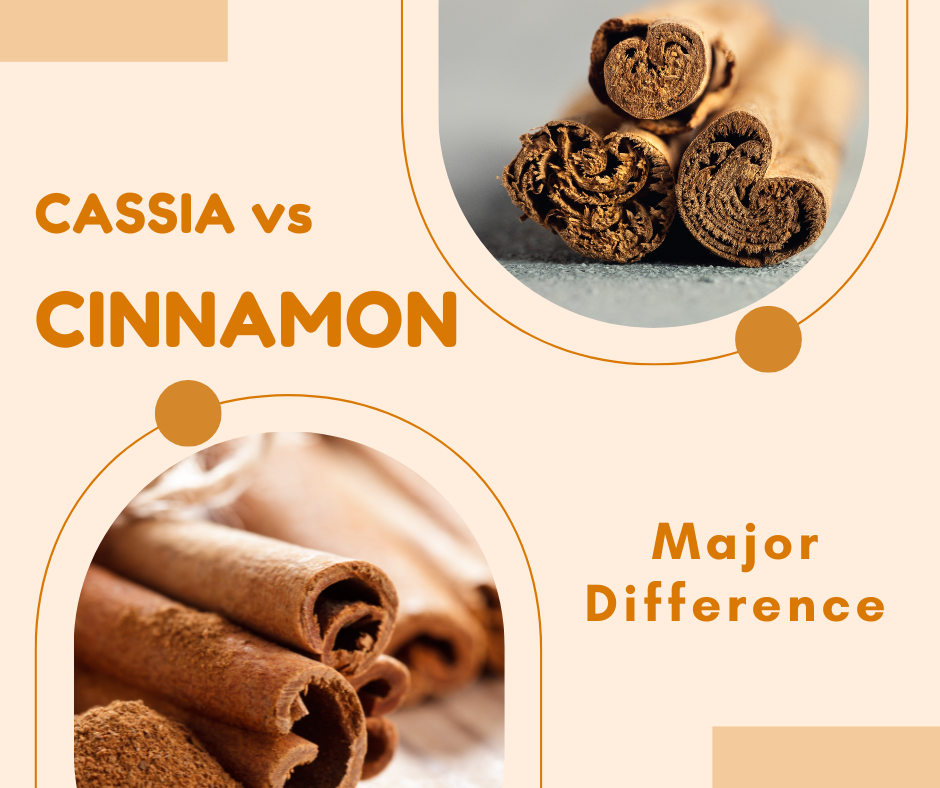 Cassia vs cinnamon are both widely used spices with similar flavors, but they come from different plants and have some distinct characteristics:
Source: Cassia comes from the bark of the Cinnamomum cassia tree, while cinnamon comes from the bark of the Cinnamomum verum (Ceylon cinnamon) or Cinnamomum aromaticum (Chinese cinnamon) tree.

Flavor: Cassia has a stronger, more intense flavor compared to cinnamon. It has a bold, slightly spicy and sweet taste. Cinnamon, on the other hand, has a milder and sweeter flavor with complex citrusy and floral notes.

Appearance: Cassia sticks are thick and rough, often with multiple layers of bark rolled into one. They have a reddish-brown color. Cinnamon sticks are thinner and more delicate, with a lighter tan to brown color.

Coumarin Content: Cassia contains higher levels of coumarin, a natural compound that can be harmful in high doses. Cinnamon, especially Ceylon cinnamon, has much lower coumarin levels, making it safer for regular consumption.

Culinary Usage: While both are used in cooking and baking, cassia is more commonly used in savory and spicy dishes, especially in Asian cuisine. Cinnamon, particularly Ceylon cinnamon, is favored in sweet dishes, beverages, and baking.

Medicinal Properties: Cassia is believed to have stronger medicinal properties, such as aiding digestion, reducing inflammation, and improving blood circulation. Cinnamon, especially Ceylon cinnamon, is considered to have more subtle health benefits, including regulating blood sugar levels and providing antioxidant effects.